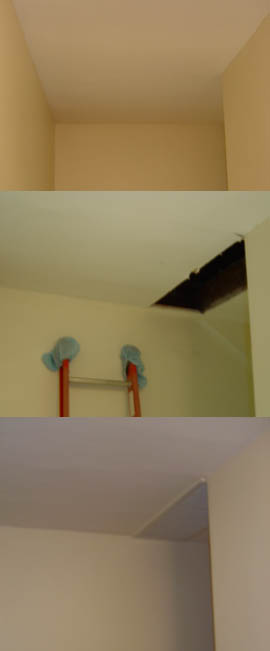 Today they cut the hole for the air return in the ceiling of the second floor stairwell. I fully expected this to make a colossal mess since they had to cut a section of ceiling out that measured 16″ x 36″ and they covered the stairs with cloth tarps. However, having done this before, they took the air return grating out of the box, carefully cut the top off the box, taped the top edges of the cardboard, and Jack got up on the ladder (Check out the booties on the ladder!) and held the box against the ceiling while Bo cut the hole from above. Plop, the section of ceiling fell off into the box which they taped up (and carted away in their truck for their own nefarious purposes). They cleaned up the stairs and Jack went outside to finish running conduit from the condenser to the main electrical panel.
Jack got the plenum duct in the attic about half finished and he completed the piping run from the condenser to the blower.
The last thing they did before leaving was charge the whole system with nitrogen to test for leaks. If they come back tomorrow morning and the pressure inside the system is unchanged, then we're good to go.
Almost there–and it's supposed to be 94 tomorrow! Eek!