Friday, October 1st, 2004
So, last night we hemmed and hawed and tossed and turned and finally narrowed our choices down to the following stains (Minwax):
Golden Oak
Ipswich Pine
Cherry
Golden Pecan
I handed this list to John this morning, and showed him a picture of a beautiful floor that M. and I liked from American Bungalow magazine. He recommended that in addition to the above four, we also try out "Colonial Maple" as that seemed to him to be closest to the floor in question.
While I was at work, they "laid out" samples of the stain directly onto our floor in the living room for us to get a feel for how the different stains look. Here's what it looked like:

From left to right, these are:
Ipswich Pine
Golden Oak
Cherry
Golden Pecan
Colonial Maple (Benjamin Moore, not Minwax)
Before seeing the stains on the floor, my favorite was Golden Pecan, with Ipswich Pine as a close contender. M. liked the Golden Oak, with the Ipswich Pine coming in second. But seeing them on the floor, we ruled out Cherry as looking too much like dyed red, and both Ipswich Pine and Golden Pecan as being too light. That left us with the Golden Oak and Colonial Maple. After walking around the stains for a bit, holding lights high and low, and stooping down and standing up, we finally decided that the Colonial Maple brought out the natural coloring of the red oak beautifully (without looking phony or dyed). Here's a close-up of the winner: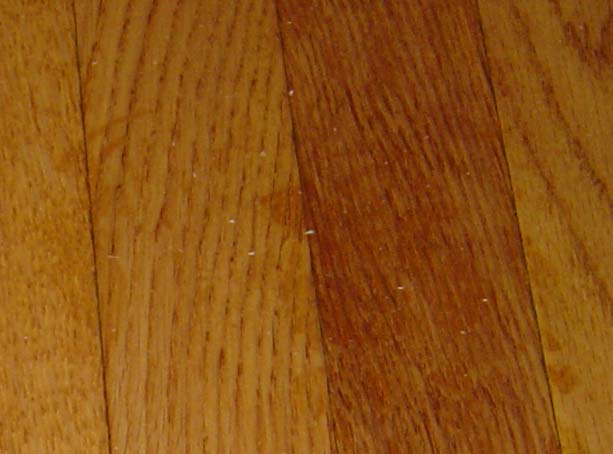 The floors are now almost completely sanded, and they're about ready to start screening them.