Sunday, March 13th, 2005
Aside from a few outlets with reversed polarity, The Old Man passed the electrical part of our home inspection with flying colors.
Then, I tore out the basement ceiling and discovered some bits that weren't up to code:

and this: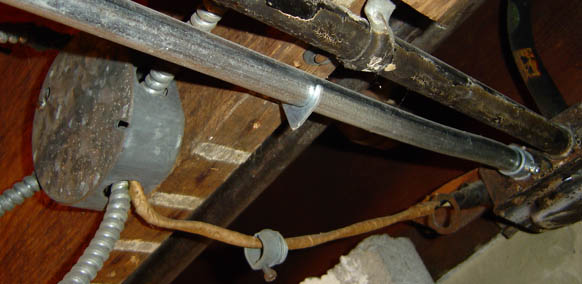 Scary stuff, but liveable until we can get some electricians in–at least it's not knob and tube.
Before moving in, while using the Shop Vac to clean out the basement, I blew a breaker and only then did I discover that the entire basement was on a single circuit. Again, annoying, but liveable until we can get some electricians in.
After moving in and plugging in a few lamps, the TV, the stereo, etc., we discovered that not only is the entire basement on a single circuit, but that same circuit also feeds the living room, the sun room, the breakfast room, the foyer, and the front porch.
So, on a single 15 amp circuit, we have:
First basement flourescent light
Second basement flourescent light
Third basement flourescent light
Fourth basement flourescent light
Basement stairwell light (top)
Basement stairwell light (bottom)
North basement storage room light
South basement storage room light
West basement closet light
East basement area light
Basement Light near water heater
Basement Light near washer/dryer
Basement Light near furnace
Basement Light near workbench
Old basement shower light
Old basement bathroom light
South basement outlet
North basement outlet
First sunroom outlet
Second sunroom outlet
Third sunroom outlet
First Living Room outlet
Second Living Room outlet
Third Living Room outlet
Fourth Living Room outlet
Living Room ceiling fan and light
First breakfast room outlet
Second breakfast room outlet
Backyard outlet (outside)
Garage outlet (outside)
Garage outlet (inside)
Garage yard lights (outside)
Garage wall light (inside)
Foyer light
Front porch light
Now I don't know if you've been counting or not, but that's a grand total of 21 light fixtures and 14 outlets on a single 15 amp circuit. Now I'm no electrician, but that seems a little excessive to me.
Thankfully, tomorrow, our nephew S. and his friend M., who is an electrician, are coming over to start rewiring the basement (And I'm going to help out-at least until they throw me out). Not only are they going to replace all the wiring in the basement, but they're also going to divide up the 35 endpoints above across 4 or 5 circuits. I'm really looking forward to this!
And now, a gratuitous shot of the old electrical fusebox, which was turned into a giant junction box by a previous electrician: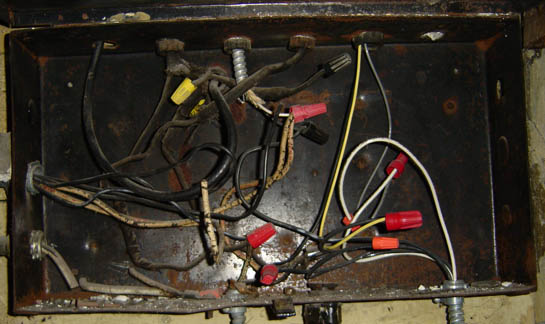 My favorite part is the coax for the cable TV that comes in through the hole in the wall where the electrical service used to enter the house–that's classy.