Our umpteenth winter storm this year prevented the guys from coming yesterday to finish the insulation job, so they came today. The bulk of their time was spent prepping as they covered the basement in plastic sheeting. They applied open cell foam in the basement which is very different from the closed cell foam they put in the attic. The open cell foam is lighter, much, much to cut, tear, fold, spindle, and mutilate. It's also a lot less sticky–it's remarkably like angel food cake (no, I didn't taste it).
They covered the furnace with sheeting, so I turned the heat off and kept an eye on the thermostat to see how the house reacted. Before having the attic insulated, on a day like today (20 degrees out and windy), it would take about 50 minutes for the temperature to go from 66 to 62. In our post-attic-insulated world, it took almost four and a half hours for the first floor temp to drop from 66 to 62, and the second floor thermostat still read 64. When they were done, I turned the heat back on and the house was back to 66 in about 90 minutes.
So clearly you can see why I'm so excited about this whole insulation thing.
There's not a whole lot to see with foam injection–just the same wall that was there before, but with holes in it. However, looking up into the balloon framing, you can see the insulation (and lack thereof). Here are some before and after photos:
Before: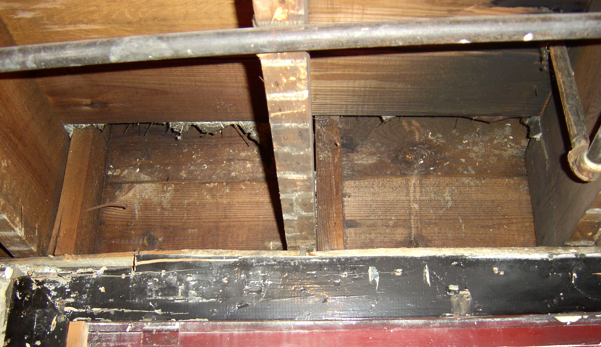 After: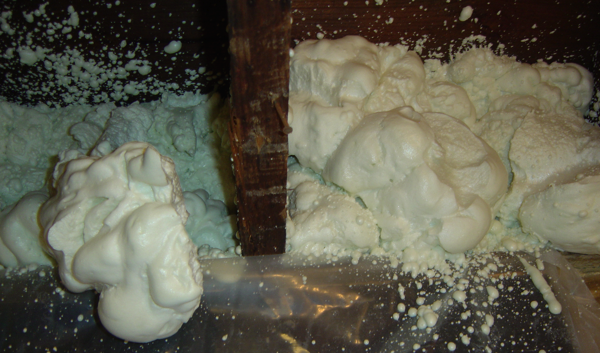 I managed to get some really cool video of both the closed-cell foam and the open-cell foam being applied, and I'll try to post those in the next few days.
So, after having gotten six separate quotes for fiberglass, cellulose, and foam, I chose Innovative Insulation Solutions to do the job, and I couldn't be happier with the work they did. Martin and Mike are the guys who did the basement (Martin was one of the four who did the attic), and they all did a fantastic job–they took their work seriously, but were exceptionally friendly and very patiently answered my (many many) questions. There's nothing better than contractors who are willing to talk to you about what they're doing to your house. Here are Mike and Martin standing out front after another day in the foam mines: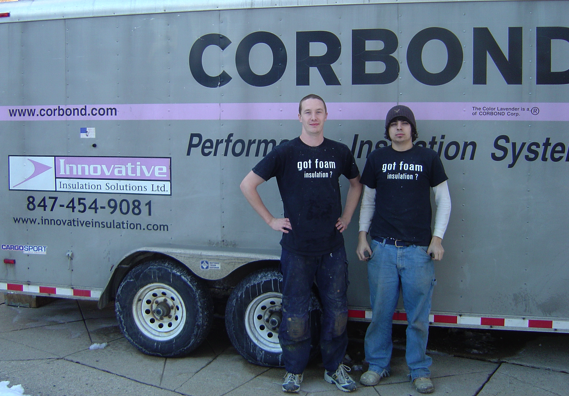 If you need insulation and you live near area code 847, give Innovative a call.