Over the weekend, M. cleared the day lilies out of the spot on the side of the house where the condenser unit was going to go, so there was nothing but bare dirt for Jack and Bo to deal with when installing the condenser (delivered a day early, remember?) Here's a picture of the condenser looking forlorn sitting on the end of our driveway: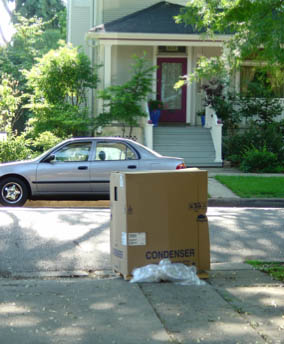 On to the installation: they started off by laying a bed of gravel on top of the dirt and then set a pre-cast concrete base on top of the gravel and tweaked it until it was level. Then they rolled the condenser over from the garage, plopped it on the pad, and began piping it over to the side of the house, behind the chimney, up the wall, and into the soffit at the top of the second floor. The "piping" consists of a 1″ rigid copper pipe, a smaller (3/8″ maybe?) copper pipe that they had in a big roll, and a small wire, presumable to control the condenser. After soldering the pipe pieces together, they wrapped the 1″ pipe in foam insulation and cable-tied it within an inch of its life. Here's a shot of the condenser in its new home on the South side of the Old Man: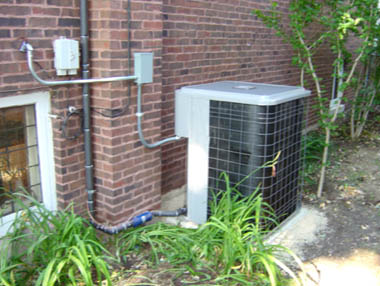 I don't know that the picture really gives justice to how tall it is, but it's about 48″ tall! Bo told me it's larger because it's a high efficiency unit and both he and Jack reassured me that it's going to be quiet–hopefully we'll know first-hand in a couple of days.
Bo took the piping run along the very edge of the South side of the inside of the attic floor to the East side of the attic, ran it along the East side up to the the blower, just stopping short of the blower itself (presumably to leave room for running the plenum duct). Meanwhile, Jack was back and forth from the attic to the basement tending to more electrical details–mostly involving installing rigid conduit.
No work took place in the living areas of the house today, so there was nothing to clean up there, but they still laid out the cloth tarps in the foyer and the second floor hallway–They even wore their shoe covers for walking around the basement and attic.
Oh, and only today did I finally notice something that I can't believe has escaped me for six whole days now: There's no garbage. They haven't left so much as a stray shoe cover in our garbage cans–they've been loading it into their truck every day and carting it away!
Wow.