The first time I saw the Old Man, I went inside the basement, took one look at the half-broken drop ceiling in there and realized that it had to go.
It's the standard 12″ x 12″ cardboard-type acoustic tiles, and the front half of the basement (the "Concrete Block Room") was covered with them, with the exception of a few spots where they had been torn out to run new plumbing lines.
This left us with about 6'8″ of height in the basement, with the exception being the steel i-beam that runs from the front to the back of the house… the bottom of the beam is only about 6'6″ from the floor.
Above the tiles were furring strips. Above those furring strips were more furring strips, and on one side of the basement, even *more* furring strips… but I'm getting ahead of myself.
I went and picked up my nephew, S., to help me out. We got to the house and went straight to work in the basement. We each took a hammer and a wrecking bar and made short work of the furring strips in the front of the basement. Granted, we were slowed down by the fact that the furring strips were 32″ or shorter, and each strip was held in place with anywhere from 3 to 8 nails.
In the end we were left with a 5′ high pile of furring strips (with lots of nails sticking out) and some very sore arms (at least my arms were sore… S. seemed just fine)
It turned out that under all of those tiles and furring strips were some *gorgeous* rafters. We've got 24′ 2×10's, and since they've been covered by a ceiling pretty much since the house was built, they look brand new and don't exhibit any of the oxidizing that you'd expect to see in a 92 year old house. At some point in the distant past, there was a plaster ceiling, as the bottoms of the rafters exhibit the tell-tale white lines running across them: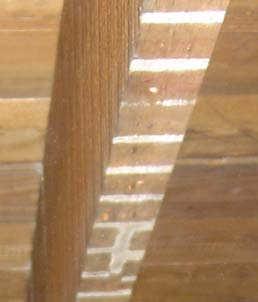 Anyway, I'll try and remember to take an "after" photo, but for now, here's a "before" photo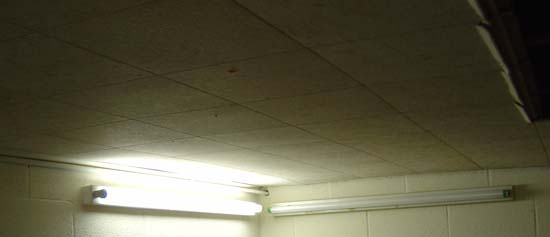 and a "during" photo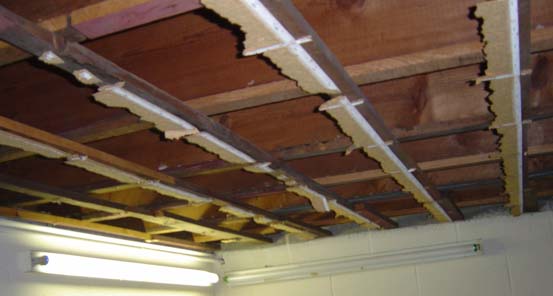 In the back of the basement, only about 1/4 of the ceiling had tiles left, and instead of furring strips, they used 1×6's, so it only took about 20 minutes to tear all that out. However, it took quite a boring while to bend nails into the furring strips and stuff them into garbage cans–we got about 2/3 of the strips disposed of.